Wine Accessories: Laser Engraved Wine Coasters
Laser engraving is available on these Wine Coasters
Engraving included in price as shown.

Put a words or logo on these attractive coasters.
Enter your text in the boxes under each selection.
Cork Coaster Laser Engraved or Imprinted, Square or Round design
The Cork Coaster for wine glass or bottle. Light and easy to maintain. Personalize it for gifts, promotions or advertising. Spread around the bar or table.
Coasters made of composite, natural cork, round or square shape.
Square: 4" X 4". Round: 4" diamater. 0.20" thick.
Laser engraved or Imprint area : 3" x 3"
Engrave or Imprint with your text or your logo.
Minimum Quantity Laser Engrave: 100 pieces
Minimum Quantity Imprint: 250 pieces
Round or Square Cork Coaster, Laser Engraved or Imprinted
$0.85

Marble Wine Coaster - Green or Black - Engraved
The beautiful marble cork-lined coaster is ideal for containing red wine drips and it creates a beautiful display base for your wine. A great gift idea! 6 3/8" diameter outside, 4 3/8" diameter inside, 1 1/4" high
Engraving specifications
Engrave area: Outside border of coaster; engrave area is 1/2" W x 1 1/2" to 2" H
Color of Coaster: Green or Black
Method of engrave: Laser engrave
For text engraving, enter text below
For logos send artwork.
$19.99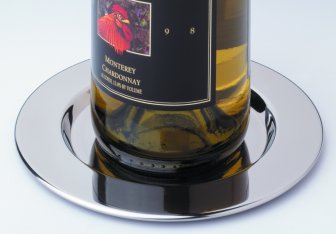 Pratique Wine Bottle Coaster - ENGRAVED
Pratique, Stainless steel - 6-1/8" outside diameter. Inside verge, 4" diameter. Engraved. Boxed set of 4 plates.

Engrave area: Outside rim of plate; letters are 1/4" high and circle the plate
Color of Plate: Polished Stainless Steel
Method of Engrave: Laser engrave
No die set up charge for text only
For logos artwork die set up a one time charge will be added to your total: $40.00
Repeat orders using the same logo,no die set up charge.
Minimum order for engraving is: 36 sets of 4

Price: Engraved Quantity Discounts: $16.99 to $15.29 per set.
36 to 50 sets $16.99 each
51 to 100 sets $15.99
101 to 150 sets $15.49
151 sets or more $15.29
$16.99