Wine Accessories: Wine Luggage - Six and Twelve Bottle Rolling, Wheeled Caddy Totes
Solutions for transporting wine in Style and Peace of Mind
TWELVE-BOTTLE TRAVEL WINE TOTE
Our insulated, wheeled, 12 bottle Wine Tote comes loaded with features: Made of durable black nylon with padded insulation, a two-way locking zipper, a carry handle on the bag itself, a removable 12-bottle separator inset pack. The rolling carriage has double track rear rubber wheels on each side making for stability even on uneven ground. traveling cart has a telescopic aluminum 2-step handle with push button release.
Front pouch with zipper-closure: inside the front pouch are several sewn-in pouches for storing cell phone, pens, cards, etc..
Front pouch dimensions: 13-1/2" x 11-1/2".
The 12 bottle Wine Tote dimensions: 16-3/4" tall (handle collapsed), 14-3/4" wide, 11-1/2" deep.
Can be checked as luggage on airlines and other transport methods.
$99.99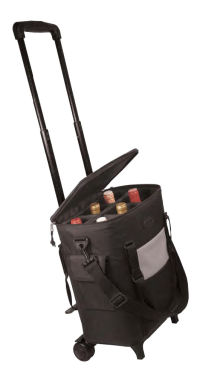 Trolley Wine Carrier & Luggage Set - 6 bottle capacity
This is a must for any wine lover on the go! The 6 bottle wine carrier & cooler and the integrated, collapsible trolley. The durable carrier features a waterproof liner, ThermoGuard insulation, and foil lid to keep it cool for hours. The divider will keep your wine safe or it can be removed to convert the wine carrier into a cooler. The carrier fits securly on the trolley through a back, zippered compartment. With its large cross-country wheels, the trolley is also perfect for hauling baskets, coolers, or that full case of wine you just brought home.
The next time the occasion calls for lots of wine or plenty of cold food, your back will thank you for getting this functional set!
Our 6 bottle carrier, insulated wine trolley rolls on rubber wheels with a handle that extends to 34". The interior compartment dividers are padded and removable -- allowing the insulated area to be used for large wine bottles and food. The top-zip opening and ergonomic rubber handle makes it easy to open, and its two front feet keep it steady at rest. Adjustable shoulder strap included. Made of black canvas, polyester lining and PVC backing.
Can be checked as luggage on airlines and other transport methods.
The 6 bottle carrier is 16 1/2"H (handle collapsed) x 10 1/2"W x 6 3/4"W
$60.99