Wine Accessories: Wine Service and Serving Tools, Board, Tray, Caddy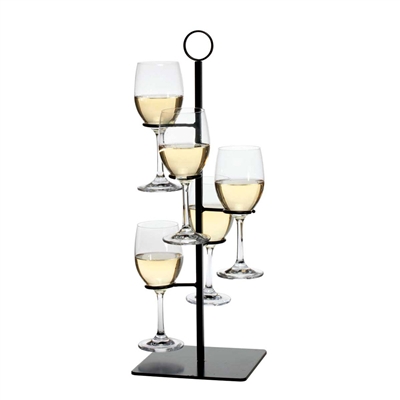 AMELIA FLIGHT SERVER
The Amelia Flight Server is a restaurant-quality rack built to carry enough wine for an entire table of winos.
The sturdy wrought iron construction and solid but unobtrusive base ensure the flight will stay upright.
A slotted ring on top is perfect for carrying your wine or adding a card to name your flight... or its destination.
$24.99
BAMBOO WINE SERVING PADDLE
This unique wine tray is sure to elicit oo's and aah's from your guests. THE design is so simple and the minimal design securely holds four stems as you carry them to a table. Solid bamboo ensures that this paddle is durable and stylish in any setting, and not to mention eco-friendly!

- 100% sustainable bamboo
- Holds 4 stems
- Minimal design
- Dimensions: 17.75"L x 3.25"W
$15.99