Pulltex & Aromabar Wine Aroma Kits
Pulltex and Aromabar Wine Aroma Kits: Highest quality Wine Aroma Training Kits. Great as a gift.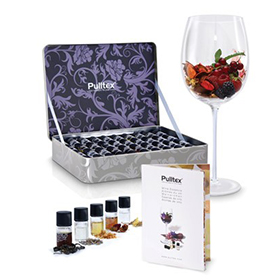 40 Aroma Deluxe Kit
View the wine aromas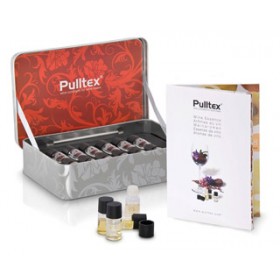 Red Wine 12 Aroma Kit
View the wine aromas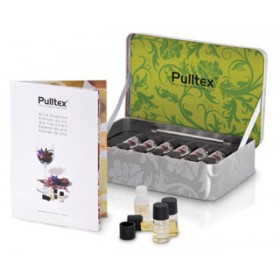 White Wine 12 Aroma Kit
View the wine aromas
rose
violet
amber
leather
pine
truffle
mushroom
apple
red currant
grapefruit
raspberry
banana
peach
lychee
quince
strawberry
fig
butter
hazelnut
caramel
licorice
vanilla
pepper
acid sweets
plum
apricot
lemon
cinnammon
honey
honeysuckle
hay
boxwood
chocolate
tea
tobacco
green pepper
cork
mildew
sulphur
skatole
Strawberry
Rasberry
Plum
Red Current
Liquorice
Pine
Tobacco
Pepper
Chocolate
Truffle
Vanilla
Leather
Grapefruit
Lemon
Quince
Apple
Apricot
Peach
Banana
Hazelnut
Honey
Rose
Honeysuckle
Boxwood
These Wine Appreciation Kits provides the passionate wine lover with an accessible guide to evaluate wine professionally.
Made in Spain, the Pulltex kit has been created under the direction of Philip Rich, a professional Australian wine taster and judge. It contains everything you need to evaluate the quality and character of the wines you have purchased and provides a fun way of learning the secrets of sophisticated wine appreciation.
Through the step-by-step evaluation process, you will begin to train your eye, nose and palate. Wine tasting is an ancient art and a refined understanding of this process will lead to an increase in the pleasure, enjoyment and knowledge of the wines you are drinking.
Each Red or White kit contains 12 aroma profiles for red or white wine in well sealed glass bottles; the Deluxe 40 aroma kit contains a full 40 aroma profiles for red and white wines.
Scroll down to the bottom of page to view the full list of aromas.
All kits contain a professional wine appreciation manual with step by step intro (Hosting a tasting event - Wine Buying Tips - Evaluating Appearance - White Wine Colour References - Understanding your Nose - Wine Faults - Evaluating Aroma & Bouquet - White Wine Varieties - Understanding your Palate - Evaluating Flavour - Wine Glossary), Assessment Book (keep a record of your wines in this professionally formatted book) and wine nose evaluation strips (convenient blotting strips for accurate aroma sampling and evaluation).
Made in Australia.
Red or White Kits $80.99 each
Deluxe 40 Aroma Kit $189.99 each
Order here for Pulltex Aroma Kits:
Aromabar, Premium Edition (60 Set) & Aromabar 3 Aroma Starter Kits
The Aromabar Premium 60 aromas kit, with aromas each in a screw cap vial, are marked with numbers corresponding to the listings in each manual.
Each category is separated into five (5) boxes with its own manual. The remaining box contains a Master manual for all categories. The wooden box comes with a removable wood lid to easily display the entire collection at once. A wide elastic band keeps it closed. Box measures 23-3/8" x 13-1/8" x 2-1/2" high
Those categories are:
White Wine - (12) Fruity aromas predominate in white wine.
Red Wine - (12) Contains a wide range of aromas.
Oaked Wine - (12) Wines are influenced when aged in oak barrels.
Wine Faults - (12) These are the cause of off-aromas.
Specialties - (12) Fascinating aromas in certain wines.
Aromabar Wine Aroma Kits are made in Germany.
Aromabar Starter Set (3 in Set)
This is a beginning level of self-training in identifying and describing wine's aromatic character. Three selected scent vials are included in each tin. The scents have been selected by professional sommeliers and wine makers.
The White Wine Set contains: Gooseberry, Pear, and Peach.
The Red Wine Set contains: Cherry, Pepper, and Cedar.
Aromabar Wine Aroma Kits are made in Germany.
Aromabar, Premium Edition $499.99 each
Aromabar 3 Aroma Starter Kits, Red or White $19.99 each
Order here for Aromabar Aroma Kits