Cheese Cutting Serving Sets Bamboo and Slate


NEPTUNO CHEESE TOOLS
Unique swirled glass-handled tools give even the most humble of cheese plates an added boost of sumptuousness.
Assorted colors.
Price $27.99



MARBLE CHEESE BOARD GRAY
This polished solid marble board with integrated stainless steel slicing wire is perfect for slicing both hard and soft cheeses.
Set includes replacement slicing wire.
Price $19.99



SLATE LARGE CHEESE BOARD With HANDLES
A good cheese complements any glass of wine so why not serve it on this smooth slate board with velvety pads added underneath to protect counter-tops.
Price $19.99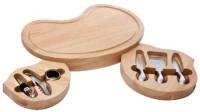 Deluxe Wine & Cheese Set, 6 Tool
Double swing-out, lower compartments on both sides concealing 3 brushed stainless steel cheese tools (hard, semi-soft knives & fork) on one side, 3 wine tools (bottle collar, corkscrew, and bottle stopper) on the other.
Dimensions: Medium size. 14-3/4 inches long X 9 inches wide X 3 inches high.
Laser engrave area: 2-1/2 inches X 1/2 inch on curved border.
$42.99/bttl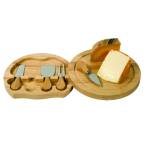 Swivel Cheese Board Set, Large (5 pcs)- 11-7/8 inch dia.

Sturdy, durable rubberwood. These two layered sets neatly hide serving tools in an underlying notched tray.
The round upper cutting board mounted on a swivel swings to one side to easily access the four tools: 1 each hard, medium and semi-soft cheese knives plus one cheese fork. Dimensions: Measures from 4-5/8 inches to 5 inches long, 11-7/8 inches dia., 1-5/8 inches high.
Laser engrave area: on top on outside rim 1/2 inch circular engrave space or inside the rim 1-1/2 inches x 3 inches.


$33.49/bttl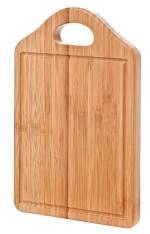 Bamboo Cheese or Carving Board with handle

Well-made, bamboo hardwood cheese board on one side (smooth surface) doubles as a carving board on the other (routed, grooved outline). Rounded corners and handle. Great for picnics, kitchen, table, etc.
Dimensions: 11 inches X 7-1/8 inches X 3/4 inches.
Laser Engrave area; 4 inches X 2 inches, either side.

$10.49/bttl






Bamboo Cutting Board, Medium

Bamboo Cutting Board, Wine Bottle Shape. Environmental green bamboo, harder than maple. Comes with leather strap.
Medium size board, it measures 17-1/2" X 5-5/8" X 5/8" thick.
Laser engrave area: on bottle neck 2-1/2" X 3/4".
Engrave can also be on the lower portion of the board with an area about the size of a normal wine label or 3"" x 4.5".

$12.49/bttl