Corkscrews: Best Wine Opener Under Ten Dollars ($10.00)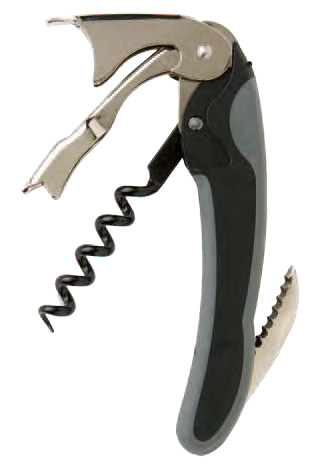 Double Power Waiter's Corkscrew, Soft Touch Model PLAIN or IMPRINTED
The next great thing! Double Power Waiter's Corkscrew uses the Double Power system to automatically move from the higher lever to the lower one by hinging two boot levers on the same rivet. This new design also includes a patented knife blade system. When the boot levers are fully opened, the blade closes automatically. Last, but not least this soft touch model includes a non-slip rubber top for a firm grip when extracting the cork.
Dimensions: 4 5/8" length
Available COLORS: Black, Dark Blue, White and Burgundy (All with Gray rubber trim exterior)
Place your order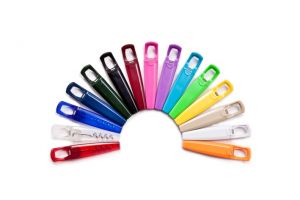 Traveler's Corkscrew And Bottle Opener, PLAIN (at top) or IMPRINTED (below)
This strong, two-piece ABS plastic corkscrew, with foil cutter and bottle opener comes in a variety of colors.
In use, the colorful protective sheath comes off and is used to create a firm crossbar handle for pulling the cork. The top of the sheath is also fitted for use as a metal bottle opener.
Great for hotel room service, room amenity, picnic baskets, trade shows, or direct retail.
Dimensions: 5" length Made in Italy
* Standard Colors: Black, Burgundy, Blue, Green, Beige, White, Turquoise, Lime, Yellow, Grape, Pink, and Orange.
* Translucent Colors: Translucent Clear, Translucent Red, and Translucent Blue.
Purchase Plain or you can Personalize the Traveler's Corkscrew And Bottle Opener with your logo or text.
Promotions and Gifts. Imprint your logo or text. See details below, scroll down past Purchase Plain.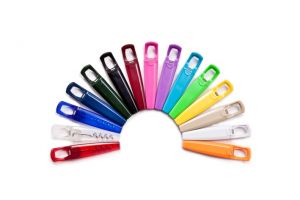 Traveler's Corkscrew And Bottle Opener, IMPRINTED
Purchase Imprinted Traveler's Corkscrews, with Text or Logo - detailed Information
Method of imprint: Screen/Pad Print
Colors of imprint: Any standard color or PMS color, you choose
Time to complete and ship order: About 10 business days.
*Minimum order for Imprinting is: 250 pieces
Ordering is Easy for One Color imprint
- One time Die Set up charge, please check the box: $40.00
- Enter quantity of Traveler's Corkscrews
- For text imprint, enter your text in box, any font choice, and imprint color.
- For logo imprint, send logo artwork as: .eps or .ai file. Artwork file must be Black and White only, no greyscale.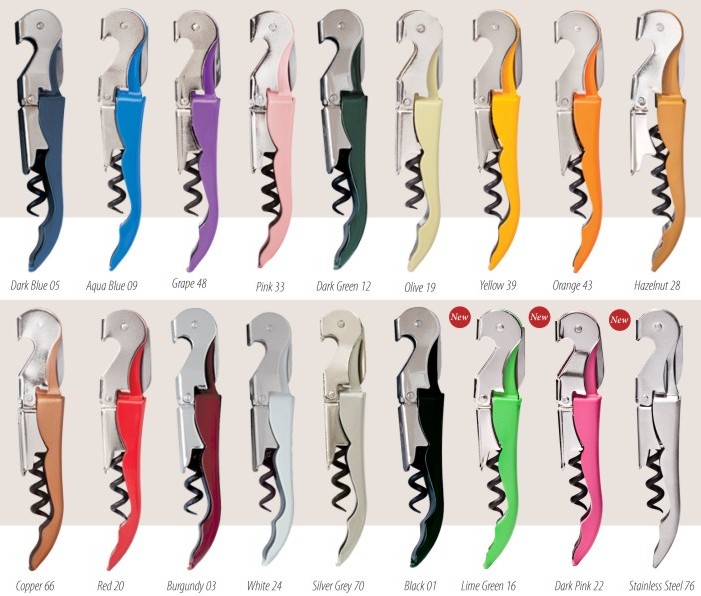 Pulltap's Corkscrew Engraved or Imprinted
Unique double-lever system. Serrated knife blade. Contoured steel handle. 4-3/4" long.
Colors: Black, Burgundy, White, Dark Green, Dark Blue, Silver Gray, Yellow, Red, Orange, Grape, Olive Green, Copper, Electric Blue, Pink, Hazelnut, Lime Green, Dark Pink and Stainless Steel.
Price: $7.55 each, plain or engraved
Laser Engraving - Have the Pulltap corkscrews personalized with the same or differ names or initials on any order of 36 or more. Price: $7.55 each on Minimum order of 36.
Imprinting also available, minimum quantity for imprinting is 100 pieces when you go to Imprinting and Engraving Corkscrews - CLICK HERE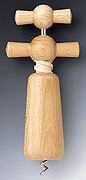 Beechwood Bistro Corkscrew
This corkscrew has been popular for many years. A reverse helix corkscrew. 7" long.
$16.49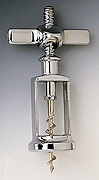 Automatic Corkscrew, Chrome Plated and made in Italy.
An automatic wine opener 5-5/8" long
$11.79