Artisan Woodwork Wine Accessories Doug Haley, American Artisan in Wood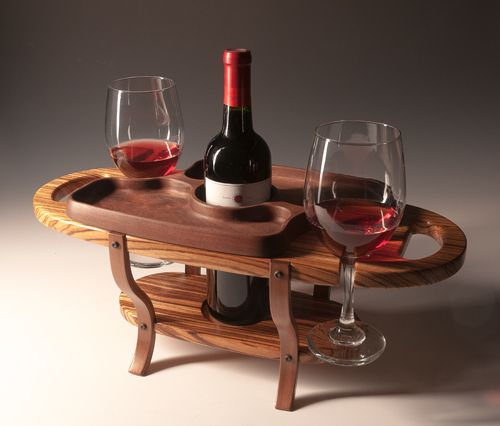 Fine Wine Caddy - Single Bottle (2 Glasses) w/Food Tray
All caddies are 19 ½" long, 8 ½" deep, 7" tall. They will accommodate most long stem wine glasses and most wines in bottles up to 3.25 diameter.
Caddies can accommodate larger bottles on special order.
The upper and lower decks of the caddy are offered in both domestic and exotic hardwoods, Maple, Cherry, Bubinga (African Rosewood) and *Zebrawood.
The caddy has a moisture resistant lacquer finish.
$214.00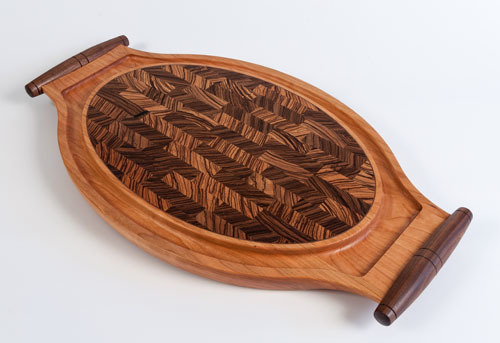 Carving and Serving Board
Carving/Serving Board is 14 ½" x 24" long, weighing 8 ½ pounds. The 3/8" thick end grain cutting area is 11 ½" x 16" and is raised 1/4" above the perimeter of the board.

Your knife never touches the wood outside the cutting area.
The juice groove, having reservoirs at each end holds 6 ounces of juice. The walnut handles are very comfortable in your hands, making it easy to carry.

The 1/4" high rubber feet keeps it out of moisture, keeps it from moving around and allows you to sit it down quietly.
It has the functionality and elegance of a serving piece as well.
Available in cherry or maple with the choice of zebrawood or bubinga end grain.
$245.00