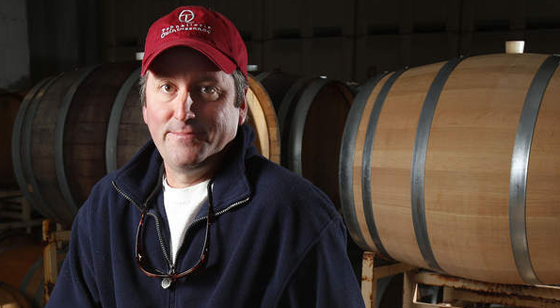 J Scott Cellars, Oregon
J Scott Cellars - Eugene Oregon

Jonathan didn't start out his career in Oregon, but in California. He originally received a Bachelors Degree in Finance. He started out his wine career in San Diego doing wine sales. While visiting his now wife, Bonnie, at UC Davis he tried some Fetzer and Korbel wines. The scent of the wood, cedar and wine in the cellar really kick started a love of wine. It was at that time he thought to himself, "I could do this". He then took the leap to going to UC Davis, and eventually transferred to Fresno State. After working in California for many years at Bernadus Vineyards and Winery as an Assistant Winemaker, then Associate Winemaker, both he and his wife needed a change. Eugene, Oregon was the perfect fit for their family. The move to Oregon was pretty sudden for them. After applying to a position as Assistant Winemaker at Silvan Ridge, they sold their home in California in less than a week! The draw of Oregon truly was the fantastic wines, the lush green landscapes, and the friendly people. After being at Silvan Ridge for many years, Jonathan started his own label. J.Scott Cellars has high quality, delicious wines that truly have an Oregon spirit.
Jonathan Scott Oberlander, is the epitome of the new generation of Oregon winemakers who utilize a combination of Old World winemaking traditions with New World technology and innovation! Until now Oberlander has forged ahead with his personal project as many independent winemakers do, buying or growing their own grapes, using leased or borrowed facilities to process them, and marketing themselves in ways different from permanent-address wineries.
"I've been making my wines at Silvan Ridge for a number of years," says Oberlander, who bottled his first J. Scott wines in 2005. "I was kind of capped on what I could do there, so this will allow us to grow," he says of his new 2,900-square-foot facility. "There's a old saying in the wine business: 'How do you make a small fortune? You start with a large fortune.' Well, we didn't have any of that. We started out at 100 cases and built it up to 1,500, and just kept reinvesting back into the business."
Painting with the full palette of colors Jonathan Oberlander, winemaker and founder of J. Scott Cellars, loves experimenting, dabbling, and playing with new varietals and unusual blends. As he told the Register-Guard in2 013, "I have a buddy who has only made Pinot Noir and Chardonnay. To me that's like painting in the colors red and blue only. You have this entire palette; why limit yourself? I go for it." And he does. J. Scott features twenty-two different wines.
Oberlander, who buys grapes from about a dozen growers ranging from the Rogue Valley to Walla Walla, is known for dabbling in every-which wine, including many not commonly produced in the Willamette Valley. Those currently available include petite sirah, viognier, roussanne, syrah, cabernet sauvignon, grenache, pinot noir and pinot blanc.
J. Scott Cellars is part of the burgeoning urban winery scene in Eugene, with a facility in an industrial park on the outskirts of town. The brick-and-mortar location is a nice step in the evolution of J. Scott. Without a personal fortune to sink into wine, he's bootstrapped his way up, starting with a production of just 100 cases when he started, and closing in on 2000 today. J. Scott Cellars is benefiting from proximity to Noble Estate Vineyard & Winery who leased another warehouse across the parking lot not long after J. Scott Cellars moved to the area. The two urban wineries, with the addition of Viking Braggot Brewery next door, makes for a nice little synergy on weekends! And...their urban warehouse enclave could be the seed of something bigger. Oberlander says, "Up in Woodinville, Washington there must be 50 wineries in warehouses in an area like this."
J Scott Cellars and Jonathan Oberlander's Philosophy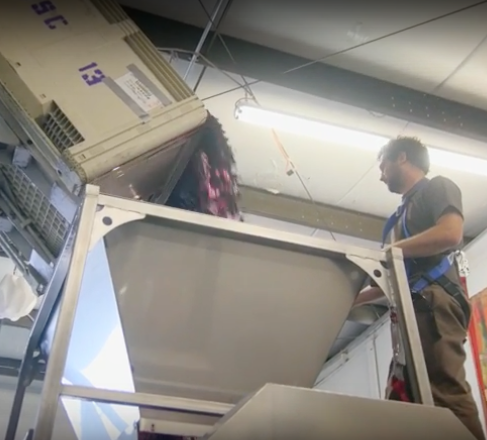 What are the benefits of an urban winery? I find in the wintertime it is one of our busiest times because people don't have to brave the icy roads. Because even if it doesn't snow it's cold enough that it can get slippery out there and it gets dark early. People who live in the south hills can drive down here and have a nice glass of wine, listen to some music, and be home in 5 minutes. It's very practical.
Do you have a favorite wine or winery here in Oregon? Boy, I have a lot. I like Elk Cove's wine, they do a nice job. I love Willakenzie's Pinot Blanc. I like Cowhorn Viognier down in Southern Oregon. I'm a big fan of Southern Oregon stuff. Red Lily, they do some spanish wines. They make a nice Tempranillo
How would you describe your approach to making wines? Really I'm looking to make a balanced wine out of each one and I want each wine to have its own personality. So I don't want Pinot to taste like Syrah, you know. I want Pinot to be pretty and delicate and feminine. I want Syrah to be kind of meaty. And I want Cab or Petit to be kind of fat and manly. I try and let the grape express its typicity and natural characteristics and just build on those a little bit. The use of oak and what percentages.
How many varietals do you make? Right now we currently have 22 in house. Sometimes we blend. Our Sirens is a blend of Muscat and Gewurztraminer. We do a sweet Rose that's a blend. We do a red blend that's always different every year. I think we have 22 different wines right now, and 16 of those are single varietals. We've got a bunch of wines under $20. Mostly our whites. They don't require barrel or extended aging so they are at a better price point. So right now we have a killer Pinot Gris out that's a new wine for us. We've got the 2013 Sauvignon Blanc. The 2013 Pinot Blanc. We have a new sweet Rose we are doing that is actually a blend. It's got Viognier, Muscat, some Pinot Gris and a little Petit Syrah for color. Roussanne and the Sirens song is a blend.
Do you think blends are catching on? It's tough. The blend category I notice in stores like Safeway and other places, it's definitely growing. So there are more people looking for it. Speaking about his Avante red blend: With the Avante I try to hit a certain style every year. I want it to be an inky dark wine that's got some muscle to it but not overly tannic. I find that sometimes blends sit because people don't know what they are. Everyone knows what Cabernet is, everyone knows what Chardonnay is but they don't know what Avante or Red Truck are. However, I think that acceptance of the blends is coming around more. People are tempted to experiment more, which is really nice. I like to say that there are only three kinds of wines out there wines you like, wines you don't like, and wines you haven't tried. So I want people to get out and experiment. So you haven't ever tried a wine, Try it!
Do you have a favorite wine you like to make? That is really, really, really hard. I honestly don't have a favorite. It's like asking which is your favorite kid! I love them equally but in different ways. I was super excited to get Grenache Blanc in, I'd been trying for a couple of years. I love Pinot, I love inky reds, I love Syrah and Petit Syrah, but I love playing around with new stuff. Just seeing what does well. Different wines stand out in different years. Which wine I'm in love with, it changes from year to year because some years you just hit it right on. It's tough!
Have you seen any drastic changes in the wine industry since starting? Whether it be styles that are selling better, or the way wineries are operating? I would say that one thing is that overall quality has gone up across the board, just in winemaker's ability. The other thing is that it's gotten a lot more competitive. It seems like everybody and his mother wants to own a winery. All the rock stars want to be winemakers, movie stars want to be winemakers. Everyone needs a wine brand. It was already a competitive business. Because unlike my wife who competes with only vets in Lane County, we compete with wines from California, Spain, France, New Zealand, and Australia. All of those wineries produce multiple things and everyone is competing for the same shelf space.
Painting with the full palette of colors Jonathan Oberlander, winemaker and founder of J. Scott Cellars, loves experimenting, dabbling, and playing with new varietals and unusual blends. You have this entire palette; why limit yourself? I go for it." And he does. J. Scott features twenty-two different wines.