Wine Accessories: Wine Bottle Coolers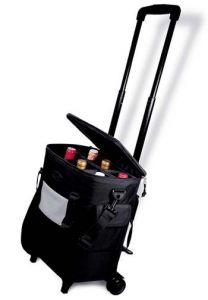 Six-Bottle Insulated Wheeled Wine Tote
Keep it cool on the street and while traveling. Easy rolling, compact traveler carries up to 6 bottles of wine or Champagne.
Black nylon outer case has pad insulation, two-way locking zipper, carry handles, adjustable shoulder strap, removable 6-bottle separator inset pack, double track rubber wheels on each side, telescopic aluminum, 2-step pull handle with push button, two-flapped, velcro closed side pockets, and business card slot in back.
Case stands 16-3/4" tall, 11-1/2" wide, 8-1/2" deep.
$60.99