What's On Sale Today at Artisans on Web for Wine and Wine & Food Accessories
Everybody loves a Wine and Accessories Sale and a good deal!

Discounted prices for these items are available on this page only.



Introducing the handmade French Tastevins of Ghislain Jobert

The Bistro Tastevin 85

The "Bistrot" Tastevin (Tastingcup) 85 is a larger model from the middle product line. it features welded shaped handles and rings; they are made from brass and are finely coated with silver.
Packaged in an attractive white gift box. Tastevin has an 85 mm diameter.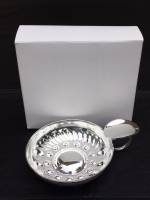 Click pic to enlarge
Regular Price: $48.99 each. On Sale here for $42.99 each.



View the entire collection of this new line of French handmade Tastevins here.




SCAFFOVINO 18 BOTTLE FLOOR RACK, BLACK
This stunning black tower floor rack could easily be mistaken for a metal sculpture.
Regular Price $79.99 - ON SALE: $70.99

SCAFFOVINO 9-BOTTLE COUNTER RACK, CHROME
This stunning chrome counter top rack could easily be mistaken for a metal sculpture.
Holds 9 bottles
Regualar Price $47.99 - ON SALE: $42.99

GREENOPHILE BAMBOO 8-BOTTLE RACK
Crafted from one of the most rugged and renewable building materials on earth, the Bamboo 8-Bottle Wine Rack offers a stylish and eco-friendly wine storage solution.
Regular Price $43.99 - ON SALE: $39.99

Take advantage of our full case discounts at Artisan Wine Shop


We ship from the East Coast with lower shipping costs and faster delivery times. Great prices, exceptional wines plus a 10% discount on a case and no tax for this wine and accessories sale. Enjoy ordering your wines and have them delivered to your door.
Click here for a good wine to send as a gift, enjoy at home or when you join with friends.



Wine and Accessories Sale


--back to top--