Wine Shop: All French wines
All of our French wine selections are listed below. Winery information is found in links in the left column.
Wine for sale online.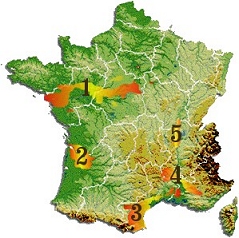 1) Loire Region 2) Bordeaux Region 3) South & SouthWest Region 4) Rhone Region 5) Burgundy Region

French wines from these regions, purchase wine online

Loire

Bertrand Jeannot et Fils (More on Bertrand Jeannot et Fils wines...)





2015 Bertrand Jeannot et Fils Pouilly Fume

This lovely wine displays classic Sauvignon Blanc characteristics of a pale golden color with greenish reflections and aromas of honeysuckle and acacia. It is beautifully structured and well balanced and matures well in the bottle.
Ideal served with fish, chicken and cheeses, or simply to enjoy as a sipping wine. Serve chilled.
$33.99/bttl



Bordeaux

Chateau de Montaigut (More on Chateau de Montaigut wines...)



2009 Chateau de Montaigut Cotes de Bourg

Made from grapes, 70% Merlot, 15% Cabernet Sauvignon, 10% Cabernet Franc, 5% Malbec. From 33 hectares of 25-30 year old vines. The wine is aged for 6 months in two year old oak barrels.
This is a lovely ruby red colored wine with aromas of dark fruits and a taste that's round and full with flavors reminiscent of stewed cherries, raisins and a hint of spice. Alcohol of 12.5 to 13%
$23.99/bttl







2012 Chateau du Grand Barrail Cotes de Blaye Blanc (50% Semillon & 50% Sauvignon blanc)

This elegant dry white wine is made from 50% Semillon and 50% Sauvignon Blanc.
The aroma is floral with slight hints of acacia. On the palate it has a full, exotic fruit flavor with a crisp freshness and fine balance. Recommended serving with hors d'ouvres, seafood, or light meats. Serve chilled.
$20.99/bttl






2007 Chateau du Grand Barrail Premiere Cotes de Blaye Revelation (40 year vines - Merlot, Cabernet sauvignon, Malbec)

Made from 65% Merlot, 25% Cabernet Sauvignon and 10% Malbec hand harvested grapes, aged in new French oak barrels for 12 months. It is released from the cellar two years after the harvest in heavy, numbered bottles.
It has an intense bouquet of red fruit and the taste is soft and fruity with a long finish. This wine ages well. Complements red meats, game, and cheeses. Serve at room temperature.
$36.99/bttl



Burgundy & Chablis


2014 Lapalus Macon-Village Chardonnay Domaine Les Bruyeres

Made from 100% hand-harvested Chardonnay this wine has a golden robe with aromas of almonds and citrus and distinguishes itself by its freshness, richness and an elegant long finish.
Goes well with seafood, shellfish, white meats and goat cheeses. Serve chilled.
$26.49/bttl






2013 Lapalus Bourgogne (Pinot noir)

Made from 100% hand-harvested grapes aged in oak.
It has a mild but seductive bouquet which is elegant and silky. It has a beautiful ruby red color with raspberry flavors and is a pleasant, easy drinking wine.
Goes well with both white and red meats and soft cheeses. Serve at room temperature.
$29.99/bttl



Midi-Pyrenees

Chateau de Hauterive (More on Chateau de Hauterive wines...)




2014 Chateau de Hauterive Malbec Cahors 75% Malbec & 25% Merlot

Made from 75% Malbec and 25% Merlot.
The wine is almost black in color with nuances of purple. The aroma is overall fruity and spicy, reminiscent of blackberries and currants with a hint of licorice. On the palate it is intense from the start with notes of fruits-in-brandy and dark chocolate. This is a strong, concentrated wine that is well balanced with firm tannins;
great with game, lamb, red meat and cheeses. For optimum enjoyment, serve at room temperature after decanting.
$18.99/bttl





French wines are in and ready to ship.
Order wine online

purchase wine online
wine for sale online
order wine online


You can mix the wines for a 10% discount on 12 bottles or more. Purchase wine online.